Research in the Ag Drainage group is applied in nature and focuses on understanding the fate and transport of water and contaminants on the agricultural landscape. From this research we hope to provide useful information on management of agricultural lands to minimize environmental impacts. Extension and outreach activities are significant elements to all of these projects. Current research projects include...
The IDALS project studies how nitrate loss and crop yield are impacted by Nitrogen management and cropping systems including winter cereal rye cover crops. Research is done and data collected at the Gilmore City site for this project. In partnership with the Iowa Learning Farms and the Practical Farmers of Iowa, the Ag Water Managem team is also studying the growth and potential impact of cover crop mixtures on nitrate concentration in water.
Annual reports for the IDALS project are available. 2006 2007 2008 2009 2010 2011 2012 2013
Drainage Water Quality Impacts of Various In-field Nutrient Management Practices: Findings from 25 Years
The Cropping Systems Coordinated Agricultural Project (CSCAP), is looking at the carbon, nitrogen, and water footprints of drainage water management and how tillage and cover cropping systems impact them. Researchers hope to increase sustainability and meet crop demand by increasing resilience and adaptability of Midwest agriculture to the increasingly volatile weather patterns. This project utilizes the Gilmore City and Crawfordsville research sites.
Monitoring sumps at the Gilmore City site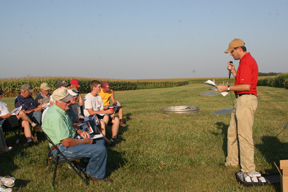 Matt Helmers presents at a field day at Gilmore City research site
Science-based Trials of Row Crops Integrated with Prairie (STRIPS) is a demonstration and evaluation project undertaken by an integrated team of research scientists, educators and extension specialists that includes Dr. Helmers. The team is specifically interested in how the water quality and biodiversity of watersheds committed to a corn-soybean rotation can be improved through the targeted incorporation of native prairie vegetation. Perennial plants in the form of reconstructed prairie have been placed within row-cropped watersheds. The researchers determined that strategically placed prairie strips can offer a number of benefits to the watershed including reduced soil erosion, slower gully formation, reduced surface runoff from watersheds, reduced nutrient and sediment losses, protection of waterways from agricultural runoff and enhanced health and diversity of the agricultural landscape. The initial project site is located at the Neal Smith National Wildlife Refuge near Prairie City, Iowa. In 2014 the project expanded to include at least six new sites in Iowa. Researchers are implementing a paired experimental design in order to test the effectiveness of prairie strips in different soils and slopes on commercial farm fields around the state. The expanded study seeks to understand how prairie strips 1) influence crop yields; 2) influence water infiltration and control of key aquatic pollutants, and 3) develop soil structure and sequestration of carbon and nitrogen.
At the Comparison of Biofuel Systems (COBS) field hydrology site near Ames, a project is measuring nitrate loss as impacted by cropping systems including restored prairie. The goal is to provide science-based public information that will lead to informed land management decisions as well as to optimized sustainability and production.
The United Soybean Board project is examining Nitrogen cycling and soil moisture under winter cereal rye cover crop conditions.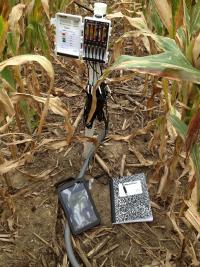 Data logger for soil moisture and temperature probes at USB research site.
The Nashua project studies nitrate loss as impacted by Nitrogen sources including liquid swine manure, tillage treatments and cover crops.